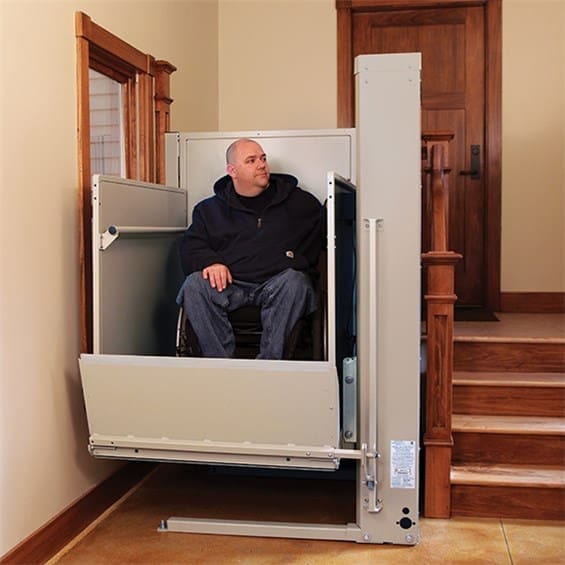 Gain easy access to raised entries, decks, or different levels in your home with a Bruno residential vertical platform lift (VPL). Bruno wheelchair lifts are available up to 14 feet and provide a cost-effective access solution to your home. Enjoy a smooth quiet ride, easy operation, and maintenance-free reliability. Bruno vertical platform lifts, also called porch lifts, can be installed indoors or outdoors, are code compliant and offer American-built quality.
Features of a Bruno vertical platform lift:
Automatic self-lowering folding ramp
Non-skid platform, ramp surfaces
Weather-resistant unit coating and controls
Continuous pressure rocker switch control
Emergency stop switch on platform
Safety sensors in platform bottom stop unit if obstruction sensed
Quiet, smooth ride
Affordable AC power in 4- and 6-ft units
Reliable DC battery power available in all travel heights ensure operation even during a power outage (standard in 10-ft and above)
Bruno stairlift Gold Warranty: two year major components; one year parts
Having problems accessing raised areas? Decks, raised entryways, and multi leveled homes can all be difficult for those in wheelchairs or scooters. Ramps work well, but sometimes they are not the right fit for the space depending on what your needs are and the amount of room you have to work with.
This is where vertical platform lifts (VPL) can be a huge help. They can take up less space than a ramp and be extremely helpful in helping you gain easy access to higher levels you would not be able to with a ramp alone. They can be easier to use than a stair lift for transporting scooters and wheelchairs.
At Mobility Access Options NW, we like to install Bruno vertical platform lifts or porch lifts. They can be installed indoor or outdoors and are durable and reliable. All surfaces of the platform are non-skid and have safety sensors on the bottom that will safely stop the unit if there is something detected underneath, as well as an emergency stop switch for the user. There is even battery power available in case of a power outage. Contact us today for additional information.